Apple released its latest OS in early October: macOS 10.15 Catalina. We have been looking forward to Catalina (and running it in beta) ever since Apple debuted it at the Apple World Wide Developer Conference in June. Catalina brings some great security enhancements to your computers but also will bring a lot of changes and some of your software may no longer work. Be Prepared!
32 bit Software
One major change coming to Catalina is the end of support for any 32-bit applications.  32-bit applications have been around a long time.  Ever since macOS 10.13, High Sierra, you may have seen a notification on your computer about a particular app saying something like "This app is not optimized for your Mac". But in Catalina those apps will no longer even launch: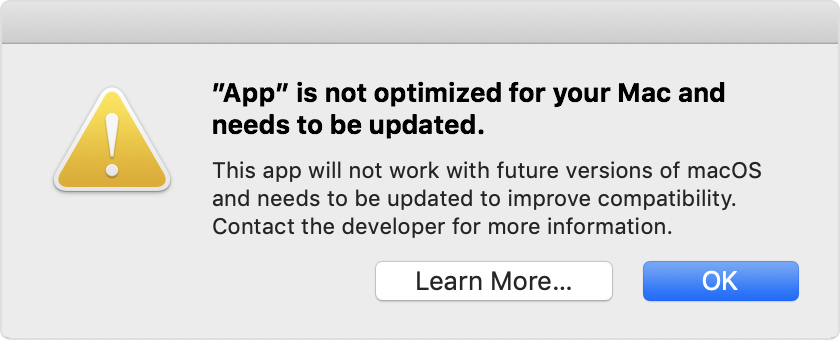 Go64
St Clair Software has great utility called Go64 that does a convenient scan of your system for all 32-bit software. And Precursor Support Plan clients can self-serve install G064 from the Precursor Managed Software Center.
Of note:
A partial list to watch out for
MSC = available in the (may require subscription purchase to activate)
Sidecar
Sidecar lets you extend your workspace by using your iPad as a second Mac display.
And, you can bring the ease and precision of Apple Pencil to your favorite creative Mac apps with Sidecar.
Music, Podcasts, TV
Apple's leviathan iTunes app has been split up into more manageable Music, Podcasts, and TV apps.
Notes
Apple's Notes app has been extensively re-written to make it more powerful and useful.
Security
And a great emphasis has been place on Security with Data protections. Apps must now get your permission before directly accessing files in your Documents and Desktop folders, iCloud Drive, and external volumes, so you're always in control of your data. And you'll be prompted before any app can capture keyboard activity or a photo or video of your screen.
Voice Control
Voice Control takes a huge leap letting you Easily navigate your Mac using just your voice. Improved dictation and richer text editing features make writing more efficient, while comprehensive commands let you open and interact with virtually any app.
Compatbile Macs
Catalina requires a compatible device. If you have one of the following you still need to check on your software:
MacBook Pro (mid 2012 and newer)
MacBook Air (mid 2012 and newer)
MacBook (early 2015 and later)
iMac (late 2012 or newer)
iMac Pro (2017 or newer)
Mac Pro (late 2013 or newer)
Mac Mini (late 2012 or newer)
When will Precursor do upgrades?
We plan on moving our clients to Catalina sooner rather than later - of course this depends on whether their application software will be compatible.
If you feel you need to have Catalina on your computer before that time comes you can request an upgrade by choosing the "Schedule an OS Upgrade" option from the Precursor Contact menu (the little blue "P" icon) in the menubar at the top of your Mac's screen.
More info:
There are a number of online articles regarding upgrading to Catalina - all better written than mine. One of my favourites that deals with the complexities aa business could have with Catalina is here: MacOS Catalina | The Big Upgrade by DetectX author Phil Stokes. Be prepared to get a headache!