The announcement has finally come and here is the complete text of the press release: " We're thrilled to announce that we have a deal with Apple to bring the iPhone to Canada later this year. We can't tell you any more about it right now, but stay tuned."

So, stay tuned...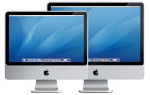 Apple refreshed the very successful iMac line this week (on a Monday no less - which is really strange if you follow these things). This is the first bump to the aluminum and glass body model that was introduced last August. The new iMacs have more RAM, and faster processors but come in at the same price points. They are available now.

Click here to shop for your iMac at hardware.precursor.ca!
---

Microsoft has released Messenger 7. It now has "new support for Mac OS X Bonjour instant networking technology" and "increased support for Office Communications Server 2007." It requires Mac OS X 10.4.9 or later. Thankfully, they have finally created a proper Mac installation mechanism.

You can download the latest Messenger at Microsoft's Mactopia web site.
---
Precursor Systems is pleased to announce that founder Alex Narvey has --for the fourth year in a row-- achieved the level of Apple Product Professional. An Apple Product Professional must successfully complete copious amounts of live and on-line training covering the entire Apple product line from iPod Touch to Xserve and from iLife =9108 to Final Cut Server.

Check out a complete list of our credentials at the Precursor web site!