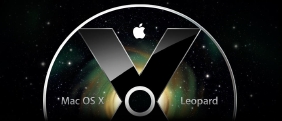 At Apple's World Wide Developer Conference in San Francisco, his Steveness provided developers with a feature complete beta of Mac OS X 10.5 Leopard. In the Stevenote Address, Mr. Jobs demoed the new Finder (same interface as iTunes), a new Desktop, QuickLook, the Back to My Mac feature of .Mac, Spaces, the collaborative qualities of iChat Theatre, and Time Machine --Apple's back-up solution.

"Our goal was to make it so simple that people would actually use it". Leopard is due to ship in OCtober and Jobs announced pricing for the October introduction while taking a stab at the complexity of the Windows Vista upgrade path: $129 US for the Basic version, $129 US for Leopard Premium, $129 US for Leopard Business, $129 US for Leopard Enterprise, and $129 US for Ultimate Leopard. He said that Apple feels that most people will choose the Ultimate Edition.

Click here to LOL (laugh out loud) at the Vista upgrade chart!