Precursor Systems is pleased to announce that founder Alex Narvey has achieved the level of Apple Product Professional. This is the highest level available from Apple=92s training department --and what better time since they have renewed virtually the entire product line in the last three weeks!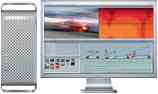 Apple has refreshed its Power Mac G5 line-up. The new Power Macs sport dual or quad processors, PCI Express graphics, and can all hold up to a whopping 16 GB of DDR 533 MHz RAM! (You can even opt for ECC error checking RAM). The top-end Quad 2.5 GHz machine is capable of over 76 gigaflops of processing power and is optionally available for the first time with a workstation level graphics card. Even the new Mighty Mouse is standard.

Hands up if you remember Steve introducing the first single gigaflop G4.

Custom configure your Power Mac G5 at hardware.precursor.ca!
---
Apple refreshed the PowerBook line-up along with the Power Mac G5. The new PowerBook 15=94 and 17=94 models offer more video resolution and brighter screens. All models now come with the SuperDrive and offer longer battery life --up to 5.5 hours on the 15/17=94 models. Prices have come down as well. The exquisite 12=94 model starts at only $1799!

I can=92t go anywhere without mine.

Get mobile with a PowerBook from hardware.precursor.ca!
---

Apple has been hard at work integrating all its hardware and software goodies into the latest revision of the iMac G5. The new models boast SuperDrives, built-in iSight cameras, remote controls, the Mighty Mouse, and more. Processors, graphics, and networking performance have all been increased as well. Both models are thinner and lighter and cost less! The 20=94 is now only $1999! It sounds too good to be true -- but it isn=92t!

The glow of this product lasts long after the infamous =93reality distortion zone=94 fades.

Put an iMac under your tree from hardware.precursor.ca!
---

Apple=92s new Aperture is the first all-in-one post production tool for Professional Digital Photographers. It is intended to be to photography what Final Cut Pro is to film-making. You can work with RAW files instantaneously with unique compare and select features. Aperture also offers a complete colour-managed pipeline with support for device specific ColorSync profiles and a set of high-quality output tools for photographers to showcase their work.