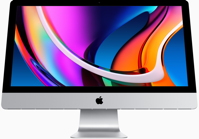 Apple has revved the iMac dramatically increasing performance, and finally making Solid State Storage and the T2 Security Chip standard across the lineup. The iMac now can take up to 10-Core processors and up to 128 GB of RAM. Camera, microphone and speakers also get high fidenlity and studio quality improvements. And the screen gets a a new nano-texture glass option for an even more stunning Retina 5K display.

Click here to find out more about the new iMac!



A lot of Apple's operating system upgrades these days are security and privacy based, designed to give users more options to protect themselves, their devices and their identities. But keeping up with all this is a full time job! Did you know that Apple provides ways to limit interest-based ads provided by Apple on your iPhone, iPad, iPod touch,=A0Mac, and Apple TV? And to turn off location-based ads provided by Apple on your iPhone, iPad, iPod=A0touch, and Mac? Apple provides an online guide for all this.

Click here to find out more about Apples' Advertising Privacy mesaures!


Many of our clients are now taking part in the trifecta of technologies that allows them to deploy and manage their devices remotely. This involves a custom Apple Store, an Apple Business Manager Account and a Mobile Device Management (MDM) service. To summarize, devices bought through a company's custom Apple Store can have their serial numbers locked into the company Apple Business Manager account where it can be assigned to their MDM solution of choice. With all this invisible back-end infrastructure setup and computer can be purchased and drop-shipped to a remote location and the computer will become fully managed with company apps, networks and vpn connection as soon as it is joined to a WiFi network.

Click here to find out more about Zero Touch Deployment!


In September, ICANN The internet body that licenses top level domains (TLDs) will make the new dot GAY url suffix available. .GAY will proudly signal support of LGBTQ people, causes, and businesses. 20% of the revenue generated from new .GAY registrations will be donated by the Webnames.ca registry to LGBTQ nonprofits like GLAAD.

Did you know that there are also over 1500 other TLDs available! To list only a few examples... .Florist .Dental .Duck .Earth

Click here to to find out more about more about available Top Level Domains!


It took nearly a year, but my presentation at the MacTech Conference in Los Angeles from October 2019 is finally available to stream. As you may recall, I spoke on the uses of FileMaker Pro to integrate reporting from various services like Watchman Montoring, MunkiReports, Slack and Zendesk using REST APIs (Application PRogramming Interfaces). Its pretty dry stuff for most end users but it does show how various online services can be tied together using the REST APIs that almost every online service offers today.

Click here to stream Alex's MacTech 2019 presentation!