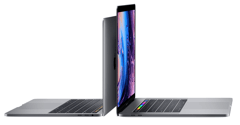 Apple has released new versions of the 13" and 15" MacBook Pro and they are substantial improvements indeed. After years of requests the 15" model can now handle up to 32 GB of RAM has an option for a 6-core processor. Not to be outdone, the 13" model jumps from dual core to quad core. And both models get particular attention paid to their keyboard which have been a source of complaints over the last two models regarding both noise and dirt. These issues appear to have been well addressed. We are looking forward to getting one of our own (but we are going to miss the "clack, clack, clack of our 2016 model).

Click here to shop for MacBook Pro via our Apple Business Affiliate link!



As evidenced by our recent Service Bulletin regarding the infamous "sextortion" phishing emails, Phishing is a real problem on a daily basis. We are bomabarded by clever phishing attacks from bad guys pretending to be our friends, our colleagues, and our banks. Isn't there something we can do? A colleqgue's recent observation that there IS one thing true in these emails and that is the bitcoin address of the bad guy. That has to be real or they could never get out money. It made me realize that there is something we can do. We have put together a little Anti-Phishing Action Guide and it is available on our web site.

Click here to see read our Anti-Phishing Action Guide!


In a previous Precis (2018/02/20) we talked about Accessible Web Design and gave you guide that helped make sure your web site complied with HTML, CSS, Speed Optimization, Links, SSL Certificates, and Web site Accessibility for those with vision and other disabilities. But we forgot Color Blindness. But now we can test for that too with Color Oracle. Color Oracle is a free color blindness simulator for Windows, Mac and Linux. It takes the guesswork out of designing for color blindness by showing you in real time what people with common color vision impairments will see.

Click here to read our Web Site Validation Guide!


Did you know that you can shop the Apple Store online AND support your local friendly neighbourhood consultant? Precursor Systems is an Authorized Apple Business Affiliate so just enter the Apple Store through our special link on the Hardware page at Precursor.ca! And this is not just for Macs. You can shop the Apple Store for iPhones, iPads, the Apple Watch, Apple TVs, and all their accessories! And the new Apple Car! Okay, maybe not the Apple Car...

Shop the Apple Store online via our Apple Business Affiliate link!