Precursor's Alex Narvey will be attending the Mac Admin & Development Conference (MacADUK 2017) in London, England on February 7th and 8th. MacADUK, now in its second year and draws 400 of the world's leading Apple experts from all over the world. Two days of intensive session allow attendees to network, share, discover, compare, meet, learn, hang out and socialize with and from the best Apple techs in the world. And it doesn't hurt that one of my sisters lives there!

Click here to find out more about MacADUK 2017!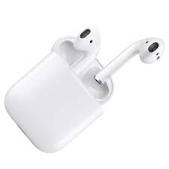 Thanks to the amazing istocknow web site I was actually able to find a pair of the elusive new AirPods in town even though Apple lists them as back-ordered until March. Apple is clearly at the top if its game with this new product. Simply open the lid of the case and a window appears on your phone asking to pair. Tap the "Pair" button and your AirPods are now connected to not only your phone but your Apple Watch, iPad and computer too. Amazing!

Click here to shop for your AirPods at the AppleStore via our Business Affiliate links!


Apple has now released the 10.12.3 update to macOS Sierra and it appears that this is very production ready. When I return from MacADUK (see above) I will be assisting many of you update to macOS Sierra. Be advised however that for maximum smiley faces the Precursor recommended requirements are 8 GB or RAM and solid state (rather than spinning disk) storage.

Click here to see the overview of macOS Sierra!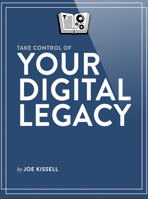 You can make a will to handle your physical possessions, but what about your digital life photos, videos, email, documents. The new ebook Take Control of Your Digital Legacy helps you learn to preserve your data for posterity and for better sharing with family today.

Identify your key digital assets: online accounts, photos, audio files, videos, passwords, documents, email, and more.

Plan for each type of digital asset based on your priorities for today, for shortly after you are no longer around, and for posterity.

Communicate your wishes in a digital will and designate someone to be its digital executor. The book includes a template document that you can develop into a personalized digital will.

Preserve your data for the future. You ll consider types of archival storage media, cloud-based storage services, backups, and what instructions to provide about maintaining your data as file formats and storage media types evolve.

Click here to find out more about Taking Control of Your Digital Legacy!



Are you a phone-a-holic? Tristan Harris, a "Product Philosopher" (yes) at Google has written a brief guide to Mindfulness on your phone. It is designed to help you minimize unnecessary psychological concerns generated by the screen. Doing so means:

Minimize Compulsive Checking & Phantom Buzzes

Minimize Fear of Missing Something Important

Minimize Unconscious Use

Minimize Leaky Interactions ( leaking out into something unintended)

Click here to read the full article about Mindfulness on your Phone!