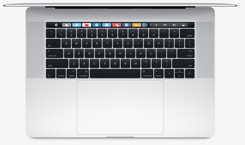 At yesterday's "Hello Again" event, Apple announced new MacBook Pro models. Thinner, lighter, faster and now with a TouchBar that replaces the Function Key strip and can let you edit in real full screen mode without palettes obscuring your view. The TouchBar models in both 13" and 15" sizes have four Thunderbolt 3 / USB-C style connectors which can be used for Thunderbolt, USB, power, video, audio, and networking (with various adapters available). A 13" non-TouchBar (with regular Function Keys) is also available to compete the MacBook Air - and best it in every conceivable way!

Click here to shop for your new MacBook Pro at the AppleStore via our Business Affiliate links!



macOS Sierra now has its first update: 10.12.1. The new version is only available from the App Store and not as a standalone download. It provides some bug fixes and a slew of security patches. We have been pretty happy with our macOS Sierra so far but are always very cautious about implementing early versions of a new operating system into a production environment. We will begin implementing it soon for customers that we feel best fit the profile and risk factor.

Click here to see the overview of macOS Sierra!


Google Apps for Work is now G Suite. And G Suite is Gmail, Docs, Drive, and Calendar for business. Its all you need to do your best work, together in one package that works seamlessly from your computer, phone or tablet. The email component is is Professional, ad-free email with 30GB of inbox storage and 24/7 support. Compatible with Microsoft Outlook and other email clients. And Google Docs can let you work on Word, Excel, and PowerPoint files right in your web browser without maintaining a Microsoft 365 subscription. All starting at $5 CAD per month. And Precursor has been a Google Reseller since 2013 and is happy to now be able to offer G Suite in Canadian dollars to save you money!

Click here to shop for G Suite and G Suite Unlimited!


Kerio Connect continues to evolve with version 9.2, enhancing the messaging and collaboration solution for small and mid-sized businesses with a stand-alone desktop application, integration with Spark, a smart mobile email client for iOS, and remote cloud management with MyKerio. Precursor has been a Kerio Reseller since 2005 and many of our clients use Kerio (managed by Precursor) as their email and communcations backbone. Precursor Support Plan customers who use Kerio Connect will be receiving the 9.2 update this weekend!

Click here to find out more about Kerio Connect extensive features!


Precursor has been a VecotrWorks Reseller since 2007. Now, 10 years later we offer VectorWorks 2017 wth 100-plus updates, some of the key features include: new Resource Manager; advanced door and window object styles; New irrigation tools; immersive web view and virtual reality; reengineered The Vectorworks Graphics Module; new cable tools; Slab Drainage tool ; project sharing enhancements; data visualization; All Vectorworks software products now include Renderworks features; Previously only available to Vectorworks Service Select subscribers, Cloud Services is open for everyone. Over 70 percent of the version s updates and features stemmed from direct designer feedback.

You can shop for VectorWorks at software.precursor.ca and for Precursor Support clients that already own it we will be assisting with the install in the coming days!

Click here to see why to upgrade (pick your current version to see the advantages!