Apple has been very busy and at World Wide Developer Conference 2015 unveiled new versions of OS X, iOS, and -- before most people even have their Apple Watch-- WatchOS. Packed with goodies and performance enhancements, these new operating systems will ship in the Fall and be compatible with all devices that can take the current operating systems - nothing is being left behind this time. Developers already have the new software in their hot little hands and Precursor is already busy in our "mupper labs" checking things out. For the first time ever Apple will have a public beta of OS X so that non-developers can give it a whirl.

OS X 10.11 El Capitan Split View and Natural language searching
iOS 9 Powerful new Notes app and Wallet replaces Passbook
Watch OS 2 Native 3rd party apps and see your future with TimeTravel
Click here to find out about Apple's Beta Software program!



Today brings the third major relase of Adobe's Creative Cloud - the 2015 version. Subscribers to the cloud will be able to get all the new versions which Adobe claims have up to a 10x performance boost over the former Creative Suite 6 by utilitizing Adobe's Mercury performance system. Other features include a unified experience across both desktop and mobile devices. PUsers will be able to seemlessly sync things like photos, sketches, brushes and colours across all devices. Photoshop users will be able to remove haze and fog from photos and will get a 120x boost to the Healing Brush and Path tools.

Shop for Creative Cloud licenses at software.precursor.ca


On June 18 Alex will be attending the Mac Deployment conference at the University of Calgary. Mac Deployment is a one-day workshop for Mac Admins in Southern Alberta, sharing current best practices in the area of deploying and maintaining Macs. The conference will make specific reference to tools like AutoDMG, DeployStudio, Composer, Casper, pkgbuild, Apple Remote Desktop, and/or Munki and provide practical techniques for managing Macs in larger deployments.

Click here to map out our training and certifications!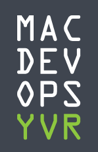 Immediately after Mac Deployment in Calgary, Alex is off to the Mac Dev Ops Conference, June 19 in Vancouver, B.C. macdevops: YVR is All things Mac, Dev, and Ops : a conference put together by Vancouver consultants Mat X and Brian Warsing featuring speakers from throughout the Pacific Northwest presenting on a number of topics related to Mac administration and deployment. The Dev Ops movement is loosely defined as applying the rigours of the development cycle to the operational life cycle of computers deployed at scale. It has become a focal point for the latest in best practices for the management and mobile management of devices in a secure but flexible I.T. setting.

Click here to map out our training and certifications!