Apple rang in the New Year with the introduction of the Mac App Store - bringing the software purchasing experience from iOS onto the Mac OS X platform. According to Apple, the Mac App Store started up with a thousand apps and a million downloads on the first day! Which begs the question: Do you need this on your computer? Well, keep in mind that the new Mac App Store requires:

Mac OS X 10.6.6To install the Mac App Store application
Adminitrative Account on computerTo permit access to the App Store App
An iTunes AccountTo license the software purchased from the App Store
Add these up plus the fact that the major industrial software items from Microsoft and Adobe are not yet available and you begin to realize that the Mac App Store --at least at this point-- is more for consumers than for businesses.

Click here to get more info on the Mac App Store!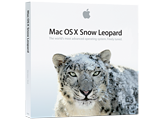 Apple released Mac OS X 10.6.6 and Mac OS X Server 10.6.6 specifically to support the new Mac App Store. As there are no significant changes in this release other than support of the App Store and the App Store is of limited appeal to commercial businesses at the moment we will not be rushing to get this installed. Mac OS X 10.6.6 can be installed on any intel Macintosh computer. The 10.6.6 update requires the purchase of Snow Leopard if you do not already have it.

Click here to shop for Snow Leopard at software.precursor.ca!


Macworld Expo 2011 takes place at the Moscone Center in San Francisco in late January and once again, Precursor founder Alex Narvey will take the opportunity to brush up on his skills and renew professional contacts. Macworld is somewhat different without Apple's direct participation but this just puts more emphasis on seminars and consultant's meetings. While there, Alex will be participating in the conference's I.T. Track as well as attending a MacTech full-day workshop for consultants and, of course, the Apple Consultants Network Annual General Meeting. This year Alex will even be hosting a consultant's meeting - "The 39 Steps to iOS" (see next article).

Click here to find out more about Macworld Expo!

While in San Francisco for Macworld Expo, Precursor founder Alex Narvey will be sponsoring an informal "round-table" discussion of trends in Apple consulting. The name of the event is "The 39 Steps to iOS". The discussion will revolve around the changing needs of customer service as Apple continues to develop iOS and invigorates Mac OS X with iOS-like features such as the Mac App Store and the upcoming Mac OS X 10.7 Lion.