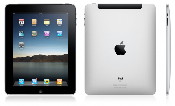 Apple has announced that the iPad will be available in Canada starting May 28th. And, you can start pre-ordering on Apple Canada's website today! Prices are $549 for 16GB, $649 for 32GB, $749 for 64GB for the Wi-Fi models. And, for Wi-Fi + 3G models: $679 for 16GB, $779 for 32GB and $879 for 64GB . Rogers and Bell have already announced they will have special data plans available but details of those plans have not yet been announced.

Click here to vote in our iPad poll at www.precursor.ca!



After 10 long years of Mac OS X, Adobe has finally written a version of Creative Suite in the Mac OS X native programming language Cocoa --and it makes a difference! For once we have a new version chocked full of great features which does not slow down your computer. It is actually faster than ever before. So we are recommending that owners of Intel Macs upgrade to CS5 and reap the benefits of the productivity increases now. And don't forget to throw in a Mac OS X 10.6 Snow Leopard upgrade for only $35!

Click here to shop for CS5 & Mac OS X 10.6.3 at software.precursor.ca!


One of our favourite software companies is Market Circle, makers of the Daylite family of products. Daylite is a Mac-only solution from a Canadian company that provides fabulous iPhone integration and modules to connect you to your accounting software and FileMaker too. Daylite is a multi-user productivity platform and now with Billings, Billings Touch, and the soon to be released multi-user Billings Pro, Daylite can be described as "Your Business in Your Pocket". Precursor is proud to be a Daylite Partner and would love to talk to you about how Daylite can be integrated into your business.

Click here to find out more about Daylite and Billings!


Precursor is please to announced that company founder Alex Narvey has completed his ACTC 10.6 Certification. ACTC stands for Apple Certified Technical Coordinator. Mr. Narvey has held this certification -or its equivalent- since Mac OS X 10.3. Apple says that Apple Certified Technical Coordinator (ACTC) "verifies a foundation in Mac OS X and Mac OS X Server core functionality and an ability to configure key services and perform basic troubleshooting of the essential Mac OS X and Mac OS X Server capabilities." Alex first became ACTC certified in 2004 for Mac OS X 10.3 (see Precursor PS-PR-04-12-28) and is happy to be constantly upgrading his skill set with the new ACTC 10.6 designation.

Alex's Apple certifications include the following: ACHDS 10.3, ACTC 10.3, ACSA 10.3, ACHDS 10.4, ACSP 10.5, ACTC 10.5, ACSP 10.6, & ACTC 10.6

Click here to read the full press release at precursor.ca!


Its good to take stock every once in a while -but it sure is humbling. In 1986 BI (Before Intenet) my first Mac had a 9" 72 ppi 512x342 black and white screen, an 8 MHz processor, 512 Kb of memory, and took data on 400 Kb single-sided floppy discs. It weighed about 24 lb. and could be carried/lugged in a special bag. It cost $4,400.

Fastforward to 2010. A top-end iPad 3G has 9" 132 ppi 1024 x 768 colour touchscreen (about a 17x improvement in pixel count), a 1 GHz processor (125 x in speed), 64 GB of RAM (125 x in capacity), and costs $879 (10 x less when adjusted for inflation). It weighs only 1.5 lb. (a 16 x reduction in weigh) And, it can magically take data from the internet from anywhere for 9-10 hours without being plugged in!