The big day arrived and Adobe unleashed the new Creative Suite 5 family of products with a focus on interactivity, performance and maximizing the impact of digital content and marketing campaigns across media and devices. If everything is as good as what Adobe has done with Photoshop CS5 then we've got a real winner on our hands. CS5 products are expected to ship within about 30 days.

Click here to shop for CS5 at software.precursor.ca!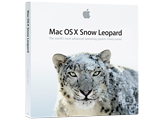 Apple has released an update for Mac OS X 10.6 Snow Leopard called Mac OS X 10.6.3. This rather large update is full of improvements for performance, stability and security. Precursor has already completed updating our customers with Snow Leopard Server and will begin with Snow Leopard Client software this week. Apple recommends Mac OS X Snow Leopard 10.6 for all intel Macintosh computers. And at only $35 per copy it is Apple's most affordable major system update ever!

Click here to shop for Mac OS X 10.6.3 at software.precursor.ca!


Just days after the first iPads began shipping in the U.S. Apple staged a special event in Cupertino to introduce iPhone OS 4.0. The new operating system will debut sometime this Summer for the iPhone/iPod Touch and will be available for iPads in the Fall. The new 4.0 OS will offer two much requested features including multi-tasking and a universal inbox for email. Appel also pulled the wraps off things like iAd and Game Center and pointed out that there will soon be 100 million Apple devices out there that can use this operating system. So Canadians might not have their hands on an iPad yet but we sure have a lot to look forward to this year.

Click here to vote in our iPad poll precursor.ca!


PRecursor is please to announced that company founder Alex Narvey has completed his ACSP 10.6 Certification. ACSP stands for Apple Certified Support Professional. Mr. Narvey has held this certification -or its equivalent- since Mac OS X 10.3. According to Apple, "ACSP verifies an understanding of Mac OS X core functionality and an ability to configure key services, perform basic troubleshooting, and support multiple users with essential Mac OS X capabilities. ACSP certification is designed for the help desk professional, technical coordinator or power-user who supports Mac OS X users, manages networks or provides technical support for the Mac in your organization."