No, I haven't got mine yet... But Apple did debut a new iPad commercial during the Academy Awards and has announced the Wifi-only version of the iPad will ship April 3 in the U.S. and will be available for pre-order from the Apple Online Store starting March 12. The Canadian iPad -both Wifi-only and Wifi/3G models- will be available in "late April". No word yet on Canadian "pre-orders".

Click here to see the new iPad TV Ad!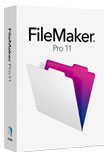 FileMaker has revved up its main product: FileMaker and like Apple seems to be really listening to customer feedback. Version 11 has built-in support for Charts, and finally comes with an invoice starter solution. There is also Quick Reports and Quick Find and a new recuuring import feature which can read in an Excel spreadsheet automatically each time you open your FileMaker database.

Click here to shop for FileMaker11 at software.precursor.ca!


Precursor founder Alex Narvey is heading to the BMO Institute for Learning in Toronto from March 14-19th for Apple Connect 2010.

AC 2010 is a week-long technical training camp designed for people whose businesses are defined by "an ability to deliver superior services to their clients using Apple products and technologies." The agenda for AC 2010 features real-life implementation, troubleshooting, and best practices delivered by Mac OS X subject matter experts, Apple senior engineers, Apple curriculum authors, and Apple evangelists. Invitees include qualified individuals such as: advanced support personnel at an Apple Authorized Reseller and members of the Apple Consultants Network. This will be the 7th Apple training camp Alex has gone to since 2005 and promises to be the best yet.

Click here to read the full press release at precursor.ca!


For the second year in a row, Alex Narvey of Precursor Systems will be one of the sponsors of the ACN Meet & Mingle, a gathering of members of the Apple Consultants Network in Canada that will be taking place as part of Apple Connect 2010 at the BMO Institute for Learning in Toronto.This year's sponsors include: Precursor Systems of Winnipeg, MacTweek and MacMedics of Toronto, Monkey Consulting of Vancouver, and IronGate Consulting of Ottawa.