It started out in version 1 as "not a replacement for Photoshop", but rather an essential aid to a professional photographer's workflow. Now Aperture 3 is all grown up and loaded with over 200 new features including many editing filters and brushes and of, course tight, integration with iPhoto 09's faces and places. Aperture 3 is now for anyone serious about photographs whether professional or hobbyist.Click here to shop for Aperture 3 at software.precursor.ca!



Kerio Mail Server is now Kerio Connect. And Kerio Connect is now available in version 7. Many of our customers are running their own mail server and collaboration services using Kerio software and will be pleased to know that Kerio Connect now offers CardDAV in addition to CalDAV so that Address Books can now be synced with Push technology to iPhones just like Calendars can. Customers who already have a license for Kerio Mail Server may upgrade for free. Customers looking into Kerio Connect for the first time will notice that there are licensing prices now for as few as 5 users.

Click here to shop for Kerio Connect 7 at software.precursor.ca!
---

Macworld Expo started in California this week without Apple and =without Adobe, but Microsoft brought forth yet another security update for Office 2004 for Mac and also used the opportunity of Macworld Expo to announce Office 2011 for Mac. The new suite will be available "later this year". Will it reign in Office 2008 bloat in way similar to Windows 7 vis-a-vis XP Pro? Will Apple users care once they are sitting in their easy chairs using iWork for their iPad? Stay tuned by following Microsoft's new Office for Mac 2011 Twitter feed.

Click here to follow the Office 2011 for Mac Twitter Feed!
---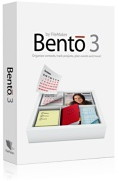 FileMaker updated Bento for the Mac to version 3.0.3 to take care a few minor issues. But this is a good time to remind our readers that Bento is the inexpensive "database software for the rest of us". Bento integrates out of the box with Apple Address and iCal and there is even an inexpensive iPhone app available to synchronize your data with your phone. What does Bento do? According to FileMaker it can help in : "Selling products, building client relationships, booking your band, organizing volunteers, running marathons, collecting coins? Whatever it is, Bento can help you do it better - the fast, fun, and easy way!"

Click here to shop for Bento at software.precursor.ca!
---

Precursor Systems is pleased to announce that for the sixth consecutive year, founder Alex Narvey has achieved the level of Apple Product Professional. Apple Product Professional is a special designation from Apple's Sales Training department and reflects a high level of achievement in that program.

Click here to read the full press release at www.precursor.ca!