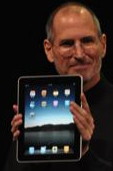 After months of monster rumours and hype, Steve Jobs took the stage today at Yerba Buena Theatre, fired up the Reality Distortion Field and introduced the iPad. According to Jobs, Apple thinks there can be a category between the smart phone and the laptop but only if it can outperform both at various tasks. Apple thinks the iPad is the answer for this new category. The new device is .5 inches thick, weighs 1.5 lb. and has a 9.7 inch touchscreen. It is powered by an Apple A4 1GHz chip with 16, 32, and 64 GB flash memory versions. Apple claims 10 hours of battery life. Like the iPhone it even has an accelerometer and compass. It can run over 1000,000 iPhone apps without modification. And there will be a new version of iWork and a new iBook store.




iPad is expected to be available worldwide within 60 days for the WiFi only models and within 90 days for the WiFi + 3 G models. iPad will be available in six models starting at $499 U.S. for the 16 GB version, $599 U.S. for the 32 GB version and $699 U.S. for the 64 GB version. Adding 3G capability will cost $130 U.S. so the pricing for that is $629, $729, and $829 U.S. All version of the iPad have 802.11n wireless. Some will have 3G with data rates in the United States starting at $14.99 U.S. per month for 250 MB and $29.99 U.S. per month for unlimited. No contract / cancel anytime with AT&T. Apple says it will have international deals in place in the June/July time frame but get this: According to Steve, ALL iPADs WILL BE UNLOCKED. No word yet on Canadian pricing for the iPad nor for data rates from the Canadian carriers. iWork for iPad - each of the three apps (Pages, Numbers, Keynote) will be $9.99 US each.

Click here to vote in our iPad poll!
---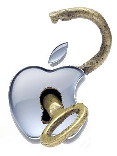 A PC customer who recently got a Mac was very concerned about security after hitting one of the web sites that says "We have scanned your computer and it is infected. Click here to get our free software to disinfect your PC". I sent them a great recent article that discusses both the myths and the realities of Mac OS X security and why it is so different from the Windows world.

Click here to read the article on Mac OS X security!
---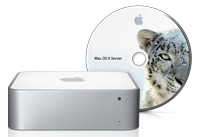 Apple's new Mac mini with Snow Leopard Server is the new SuperMan around here. Able to leap tall buildings and power small companies with a single $1099 purchase! But Apple didn't stop there. They convinced Promise Technologies to chip in the incredible value-priced SmartStor DS4600. This power-packed 4 TB RAID 5 device is available at the jaw-dropping price of $999. The two new items revolutionize the small business server space and have quickly become Precursor's hottest offering.

Click here to shop for your Mac mini with Snow Leopard Server at hardware.precursor.ca!
---
Acclivity has announced AccountEdge 2010. The new version comes packed with the most requested updates and features. Among the notable new features are integration with Sofa's web store Enstore, more detailed tracking of item information, profitability of a sale analysis, and bank deposit slip printing. AccountEdge is cross-platform with versions available for both Windows and Mac OS X. And Acclivity will send your accountant a free copy if you require it. Lastly, until JAnuary 31, Acclivity is offering a $100 US rebate for upgrading from a previous version of AccountEdge, MYOB or QuickBooks Accounts for Mac (see: http://ca.accountedgeapp.com/rebate/)

Click here to shop for your AccountEdge2010 at software.precursor.ca!