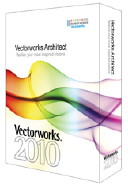 Nemetschek has updated its entire line of design software including: Designer, Architect, Landmark, Spotlight, Machine Design, Fundamentals, and Renderworks . The new software is based on the theme "Making Change Easy" and offers full compatibility with Apple's new Mac OS X Snow Leopard 10.6. And, as an authorized reseller Precursor carries the complete line of VectorWorks 2010 products and upgrades.

Click here to shop for VectorWorks at software.precursor.ca!!



Adobe wants the Photoshop family everywhere. Evidence: the new Photoshop for iPhone App AND finally, an updated version of Photoshop Elements for Intel Macs. In addition to Photomerge Exposure, Recompose and Quick Fix previews, Photoshop Elements 8 for Mac features Scene Cleaner for brushing away unwanted elements, such as tourists or cars, from a series of photos to create the perfect scene. The Smart Brush helps users apply incredible effects to a specific area of a photo with a single stroke and Touch-Up brushes make common editing tasks quick, such as whitening teeth or making bright blue skies. When creations are ready to be shared with family and friends, users can display their photos on the Web with gallery templates or personal Web pages, by e-mail and on CD or DVD.

Click here to shop for Photoshop Elements 8 at software.precursor.ca!!
---

Finally! After many long years RIM has finally released its own Mac platform sync software. Blackberry Desktop Manager 1.0 for the Mac takes over from the software that RIM was licensing from 3rd parties and now offers seamless syncing of data from Mac applications like iCal, Address Book, Microsoft Entourage and others, as well as the ability to add and remove applications, schedule automatic backups, encrypt backup files and install software updates for their BlackBerry smartphone. Will it be enough to turn the iPhone tide? (see our last story item below)

Click here to check out RIM's Blackberry Desktop Manager.
---

Why did Apple make some variants of Helvetica Neue into system fonts? Only the Great Jobs knows for sure. But we do know how many conflicts it makes for designers. If you are tired of experiencing those conflict warnings then we have the ultimate Helvetica Neue Font Guide for you. Get rid of those Helvetica Neue font conflicts forever!

Click here to read our special Precursor Guide to Heletica Neue!
---
Could it be? Canada is moving from a 3rd world iPhone country to way ahead of the U.S. We've already got MMS AND tethering and now we are to have COMPETITION. Both Bell and Telus have announced they will have the iPhone 3GS on their new HSPA networks starting in November!. So, when DOES your Blackberry contract expire?