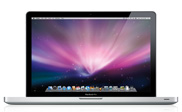 The gorgeous new 17" MacBook Pro that Apple introduced at MacWorld Expo in January is now shipping and it really puts the "Pro" in MacBook Pro. The new super strong and light aluminum unibody houses a beautiful new display that can now be had in either gloss or matte finish. And how does up to 8 GB of RAM and up to 8 hours of battery life sound?

(It should sound like "Order me one now!")

Click here to custom config a 17" MacBook Pro at hardware.precursor.ca!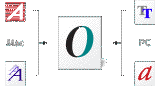 In Mac OS X 10.5 Leopard, Apple did something that every designer wishes it hadn't. It defined instances of both Helvetica and Helvetica Neue as Mac OS X system fonts that cannot be removed. This causes much anguish as font management applications are constantly throwing up nasty conflict warnings. But it turns out there is a solution and that solution is Adobe's new OpenType Helvetica Std series of fonts.

Vote in our font management poll to see a link to a more detailed article on this topic of supreme interest to designers.

Click here to vote in our Font Management poll and learn more about Helvetica Std!
---

Is there anything you can't do with FileMaker? We say no! And that is why we have increased our investment in FileMaker technologies by attending FileMaker DevCon and becoming a member of both FileMaker TechNet and the FileMaker Business Alliance. We run our own business on custom-made FileMaker databases including: invoicing, inventory, customer service, asset tracking, iPhone integration, and more. Heck, even this newsletter is produced and emailed using FileMaker.

FileMaker has paid careful attention to customer desires in its new version 10 products and produced fabulous interface and feature improvements that makes us more excited than ever to help you with FileMaker solutions to make your business more productive and efficient.

Click here to shop for FileMaker products at software.precursor.ca!
---

Precursor is pleased to announce we are now a Certified Daylite Partner and a MarketCircle authorized reseller. You will recall that we mentioned Daylite in our Macworld Expo reports this year. Daylite is a Canadian-made, Mac-only solution for CRM and Business Management that integrates Apple's Mail, iCal and Address Book and harnesses their power so that your customer service teams can work collaboratively. It even offers integration with MoneyWorks, FileMaker and Lightspeed. And, as if that wasn't enough, an excellent iPhone companion application called Daylite Touch is coming this quarter.

Click = here to find out more about Daylite at Precursor.ca!
---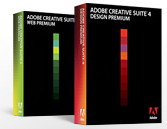 Full disclosure: This is not a sale but it is a reminder that =Adobe will be increasing the pricing of some CS4 upgrades by $250 CDN after February 28th. Up until then, owners of the original Creative Suite and Creative Suite 2 may upgrade to version 4 for the same price as Creative Suite 3 owners. After February 28th, versions earlier than 3.0 will have to pay $250 more to get to CS4. The expiration on introductory pricing also applies to those upgrading to CS4 Web from Macromedia Studio products. So if you have been sitting on the fence, give us a call about saving money and getting your CS4 upgrades now from the Precursor software store.