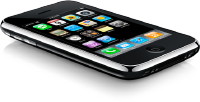 With the release of the new 2.1 firmware last week Apple's iPhone 3G is now zippier, more stable, longer lasting and even gets better 3G reception. Now that is what I call a good free upgrade! We have put together a FAQ answering some of the typical questions a new Canadian iPhone 3G user might have. To read the FAQ you just have to participate in our quick and simple iPhone poll.

Click here to participate in our iPhone 3G poll to read the FAQ!
---
Our favourite summer reading was the National Post article on the 10 essential fonts for when one is stranded on a desert island. You've all heard me say that "Font" is a four letter word and indeed the article is complete with (humorous) profanity. Participate in our Font Management Poll to get a link to the article.

Click here to participate in our Font Management poll for the desert island link!
---


We are pleased to announced that for the third year in a row, Precursor founder Alex Narvey has achieved the level of Apple Sales Professional -- the highest level awarded in Apple's Sales Training Program.