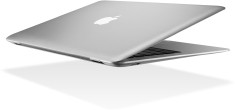 Steve Jobs reached into a manilla interdepartmental envelope and pulled out the thinnest notebook computer ever at Macworld Expo in San Francisco. Amazingly, the thick end of a MacBook Air is thinner than the thin end of Sony's smallest offering! Unlike its competitors, Apple has kept the full-size keyboard and the full-sized screen and reduced almost everything else in an engineering tour de force. Even the processor is a special Intel chip for Apple that is a fraction of the size of the company's other Core 2 Duo offerings. Are the compromises in processor speed, video acceleration, and hard drive size and speed the right thing to do while keeping a full-sized keyboard and screen? Apple is betting that for the vast majority of mobile computers out there the answer is yes --and I would have to agree!

The MacBook Air is expected to ship within 2-3 weeks.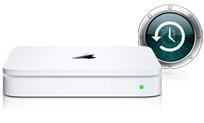 Apple's Time Machine is one of the most exciting new features of Mac OS X 10.5 Leopard. And now, Apple has a special backup appliance to go along with it. Time Capsule is a full Apple Airport Extreme 802.11n base station combined with a high capacity, server-grade hard drive (either 500 or 1000 GB. No home network is complete without one!

Time Capsule is expected to ship by the end of February.

Shop for Time Capsule at hardware.precursor.ca!
---

Canadians looking for an iPhone should take interest in Macworld announcements about the iPod Touch. Apple has finally added all the juicy internet goodies that the iPhone has including: Mail, Maps, Weather, Notes, and Stocks. There is still no cellphone radio in Canada but now you have a real internet appliance for any WiFi network that will work legally and survive any Apple firmware upgrades. New iPod Touch devices will come with this free and existing iPod Touch owners will be able to upgrade for only $20. Can you say "Deal"?
---

Arriving 6 months late but just in time for 2008 is Microsoft Office 2008. This is the last major software package to be rewritten for Intel-native Macs. According to Microsoft: "Office 2008 for Mac is significantly enhanced to provide a simplified=A0user experience that helps beginners and long-time experts alike deliver professional documents that are compatible for co-workers and friends on Macs and PCs." Office 2008 also uses the same Open XML file formats, the Office Art graphics engine, and many other features as Windows-based Office 2007, so you can share documents with colleagues whatever system they're using.

Shop for Office 2008 at software.precursor.ca!
---

Now you can let your spreadsheet crunch the numbers and FileMaker's Bento will do the rest. Bento is a personal database that is sort of like the lost tribe of iWork '08. It has built-in links to Apple's Address Book and iCal, great looking templates and beautiful themes and lets you manage your contacts, co-ordinate events, track projects, prioritize tasks, and more - faster and easier than ever before.

Bento is available for only $49.95 and also comes in a 5 user family pack for $99.95