After 7 months of daily having to respond to the question "So have you got your iPhone yet?" I finally broke down and got my own. And, if your nice to me the next time you see me I might let you hold it... Just make sure you are sitting down and your hands are over a table! ;-)

For those who are interested in finding out how to obtain and use an iPhone in Canada I have written about my experiences on the Precursor web site.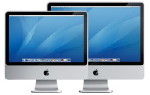 Apple has introduced the classiest and most powerful iMacs yet. The new aluminum and glass chassis models feature glossy screens and start with a 20" at the same price point as the old 17" and can go on up to a whopping 24", 2.8 GHz processor , 4 GB of RAM and a TeraByte hard drive. The computer is thinner but wait until you see the new aluminum keyboard. Yikes, that's thin!

Custom configure your iMac at hardware.precursor.ca!
---

Like the iPhone, the Apple TV requires an account with the U.S. iTunes Music Store to be fully functional. But unlike the iPhone, Apple is happy to sell the Apple TV in Canada right now! In my desire to know of all things Apple I just had to get one. I hacked it up with an aftermarket 160 GB hard drive and a customized Canadian TV scheduler and with a stange brew of hardware and software it is happily recording and playing back our favourite TV shows.

You can read about my experiences with the Apple TV in Canada on the Precursor web site.

Click here to read about my experiences with Apple TV!
---


I couldn't see the advantage... especially with having to change all my stationary and web site references and such. But both the accountant and the lawyer assured me that it was the right thing to do and who am I to argue. On August 1, Precursor Systems incorporated. In lawyer-speak we are now officially either: Precursor.ca, Inc. operating as Precursor Systems, or, Precursor Systems, a division of Precursor.ca, Inc. Take your pick!