Apple announced a major upgrade in its video software suite: Final Cut Studio 2. With six powerful applications, each designed specifically for editors, Final Cut Studio 2 puts everything you need in a single box: Final Cut Pro 6 for video and film editing; Motion 3 for graphics and animation in 3D; Soundtrack Pro 2 for professional audio post-production; Color, a new application for professional color grading and finishing; Compressor 3; and, DVD Studio Pro 4 for digital delivery virtually anywhere a disc, the web, Apple TV, iPod, or cell phone



Copies of Adobe Creative Suite 3 are wending their way towards retailers --including Precursor Systems-- for the end of the month. Be the first on your block to fire up Photoshop Extended. But be warned. CS3 is a major upgrade with a bewildering product matrix that includes over a dozen major applications and six different compilations. We invite you to call Precursor for a detailed estimate of the most cost-effective way to upgrade.

Click here to shop for CS3 at software.precursor.ca!
---

On April 12th, Apple announced that Mac OS X 10.5 Leopard would not be available this Spring as originally planned but would be delivered instead in October. According to the announcement posted to the Hot News section of the Apple.com web site the company's plan is: "to show our developers a near final version of Leopard at the conference, give them a beta copy to take home so they can do their final testing, and ship Leopard in October."
---

Quark continues to develop on version 7 with a new 7.2 upgrade free to all registered users. The new upgrade has various feature improvements and bug fixes and is available from the company's web site. Don't forget to use the upgrade on the new Canadian version (See last month's Précis)

Click here to shop for Final Cut Studio at the Precursor Software Store!
---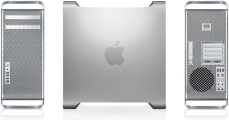 Eight is enough. Or is it? Apple has introduced an 8-core Mac Pro monster. With the new top end Mac Pro you get the power of two Quad-Core Intel Xeon =93Clovertown=94 processors each running at 3.0GHz. Oh, when will it end! When you call to order of course! And, don't forget to custom custom configure it with 16 GB of RAM, Four 750 GB hard drives, dual SuperDrives, the NVIDIA Quadro FX 4500 512MB, Stereo 3D (2 x dual-link DVI) Workstation level graphics card and two trusty Apple 30" Cinema Displays. (a mere $18,450) If you do, we'll throw in the Bluetooth adapter and wireless keyboard/mouse combo for free.

Click here to custom config your Mac Pro at hardware.precursor.ca!