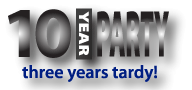 Our 10th Year Anniversary celebrations are drawing near and are now less than three weeks away! Better register now and get your seats before the limited space is filled. We are hosting two seminars and a panel discussion/game show all before winding up with a grand reception at the Forks Ballroom on March 29th.

Security & Your Mac Seminar Alex will reveal all the weak points in your Mac, share great insider stories and insights, plus provide hands-on demos to ensure whatever your business or user profile, you can ensure you and your system have the ultimate in protection
Mac OS X 10.5 Leopard Seminar An expert tour that takes you level by level through all the great technologies and functionality loaded in Mac OS X 10.5 Client and Server
The Control Panel Part panel discussion, part Game Show --and ALL informative-- laugh and learn as our industry luminaries compete for cool prizes
Grand Reception Celebrate with Precursor founder Alex Narvey and catch-up with all your favorite and infamous industry peers at our VIP reception
Most events are free to attend but you must register online to ensure seating. Don't miss this once in a lifetime opportunity!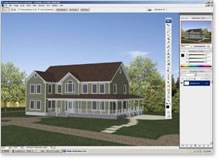 Adobe will be rolling out Creative Suite 3 on March 27 and along with Photoshop CS3 there will be a second version called Photoshop CS3 Extended. Adobe claims that while Photoshop CS3 will be ideal for Photographers, Graphic designers, Web designers, and Print service providers, the new Extended version will be ideal for Film, video, and multimedia professionals, Graphic and web designers using 3D and motion, Manufacturing professionals, Medical professionals, Architects and engineers (AEC professionals), and Scientific researchers

When available, you can buy Photoshop CS 3 from software.precursor ca!
---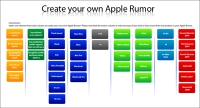 "An operative deep inside Apple has confirmed earlier resports that we will see a Ultra Portable Mac Pro at WWDC 2007". I love reading stuff like this on the 'net. But if, like me, you just can't wait for the next rumour to be promulgated, you can now roll your own! This is just one of the rumors that can be generated using the Apple Gazette's Crazy Apple Rumour Generator.

Roll your own crazy Mac rumor at the Apple Gazette!
---
Ever wanted to get have that generic stamp icon for Apple's Mail app replaced with a Canadian stamp? Now you can thanks to Jesse Schooff, there is just such a custom icon on the internet with easy instructions to making over your own Applications folder with it.

Click here to vote in our email Poll and to download the Canadian Stamp Mail Icon!