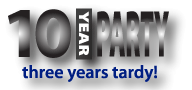 After three years of solid planning (yeah, solid planning) Precursor Systems is finally having our 10th Anniversary Party! Be sure to set aside time on March 29th, as we'll be hosting two powerful Mac Seminars with new and uncommon information that will be highly-valuable to all, plus a timely and topical Panel Discussion, and finally, a Reception to celebrate! You'll mingle with Winnipeg's most dynamic and creative business community in a festive atmosphere, with delectable fare, fun, and oh yeah, did we mention the prizes!

Security Seminar: Alex will reveal all the weak points in your Mac, share great insider stories and insights, plus provide hands-on demos to ensure whatever your business or user profile, you can ensure you and your system have the ultimate in protection
Leopard Seminar: An expert tour that takes you level by level through all the great technologies and functionality loaded in Mac OS X 10.5 Client and Server
The Control Panel: Part panel discussion, part Game Show, and ALL informative -- laugh and learn as our industry luminaries compete for cool prizes
Reception: Hobnob with Precursor's Head Honcho, sample some great "appies", and catch-up with all your favorite and infamous industry peers at our VIP reception
We set up a special web site for you to get all the juicy details and register for the events. Register early as seating/registration will be limited! Early-bird special: sign up before March 9th and save on seminar registration.



Corel's Painter X, is painting and illustration software that emphasizes painterly and natural media effects. This Universal Binary version for Mac OS X offers the RealBristle Painting System (including brushes with individual bristles that blend and splay), a Divine Proportion composition tool, a Layout Grid tool, enhanced Photoshop support, and more. Painter X is $499 CDN.

Shop for Corel Painter X at software.precursor.ca!
---

The Nemetschek Group and Adobe Systems Inc. have announced they will be working together more closely to optimize document processes for architects and engineers. The two companies are promoting PDF as the format of choice for the exchange of data in the building industry. VectorWorks 12.5 already integrates Adobe PDF creation capabilities directly into its CAD software. As a result, users can create Adobe PDF files from within VectorWorks and import PDF files into VectorWorks 12.5. These PDF files feature intelligent functions such as layers, scale information, and searchable text. Further integration of Adobe technology will follow in future software releases.

Precursor Systems is now pleased to be a VectorWorks Reseller offering the complete VectorWorks line-up including: Fundamentals, Designer, Architect, Landmark, Spotlight, Machine Design, and RenderWorks.

Shop for VectorWorks software at software.precursor.ca!
---

Vista (Microsoft's version of Mac OS X) is finally upon us. Many commentators have already weighed in on the copious similarities between the two operating systems. But there is still one thing that sets Microsoft and Windows apart from the Apple/Macintosh world --and it is unlikely to change: Simplicity and Ease-of-Use. Mac OS X still stands head and shoulders above Windows Vista in this regard and nothing demonstrates it better than the upgrade paths available in the two operating systems. An internet user, recently posted a chart that illustrates this better than any news article could and we have posted it online so that you can LOL to your hearts content.

Click here to LOL over Vista upgrades!
---
In 2005 the U.S. Congress passed a bill that may play havoc with your computer and/or calendar software. The Energy Policy Act of 2005 changed the implementation of Daylight Savings Time to gain a full month of energy savings per year. Since Canada has followed along in lock step it means that we will be switching over to D.S.T. three weeks early this year on the 2nd Sunday of March. We have put together a tech note on this subject to help you prevent a mini "Y2K" event with your computer.