Five minutes into the Macworld Expo Keynote Address, Steve Jobs was already finished talking about Macintosh! He then spent nearly two hours in a virtually flawless, jaw-dropping presentation of Apple's new iPhone. Read my impressions from the show --and get your own iPhone* by reading the rest of this story on-line.

* Can't wait for the iPhone? Click here to get your paper cut-out model!


I volunteered at the Apple Consultants Network booth at Macworld Expo this year and answered questions for 4-1/2 hours. Each Mac enthusiast had a different problem but every one of them finished by having me discuss backup. The field of backup and recovery is getting more complex. Later this year, Apple will be providing some relief with Mac OS X 10.5 Leopard's Time Machine feature. Regardless, Precursor will be changing our business plan and procedures with regard to backup over the course of the next year. Look for more details in an up-and-coming issue.

Read a brief survey of the backup field at precursor.ca!
---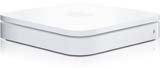 Tucked away behind the introduction of the iPhone was the debut of a new AirPort Express Base Station. The new device adds value in every way: t is smaller; less expensive; it supports 802.11n which is up to 5x faster and up to double the range of "g"; its backwards compatible with 802.11 a, b, & g; it finally has a built-in 10/100 switch; and you can now share hard drives from its USB port in addition to printers. It will ship in February.

Shop for AirPort Express BaseStation at hardware.precursor.ca!
---

Ever wanted to get a confirmation that someone has received that important email that you sent. This long-time feature of corporate Exchange servers is something we get asked about a lot. So we've written the definitive guide for return email confirmations and its yours free for taking part in our email survey.

Click here to vote in our email Poll and download our Email Confirmation Guide!