Apple has replaced the venerable iBook computer --and what a replacement it is. The new MacBook --available in both White and Black plastic casing-- has a glossy 13.3" cinema aspect screen, a built-in iSight camera and the same Core Duo processors used in the new iMac and MacBook Pro line-ups. Apple's least inexpensive notebook finally allows you to do monitor spanning with an external high resolution screen and will support Apple's own 23=94 Cinema Display.



Quark has finally released the long awaited version QuarkXPress 7. The company's official press release is remarkably short on details. It doesn't discuss features or prices and it doesn't even mention that this release is only the PowerPC version and that the Intel version is still in public beta hoping for a release at the end of summer. Quark 7 will feature transparency, Composition Zones, and a new Job Jacket technology.

Click here to vote in our Page Layout Poll and view known issues in Quark 7!
---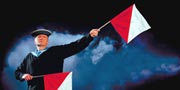 Precursor Systems is now a Certified Kerio Business Partner - Messaging. After passing another scrupulous exam we have better access to Kerio technology and support. Kerio MailServer has been an extremely successful business for us and for our customers. It allows them to get control of their email with excellent spam control, elimination of size limits, built-in anti-virus checking, great webmail and a very easy-to-use vacation mail feature.

Read about Kerio MailServer successes in our case studies on-line!
---

Get over it! Thanks to Apple's Boot Camp, Intel Macs can run Windows natively and so you can now find a new item in the Precursor Software Store: Windows XP. We=92ve even put together some super deals so that you take advantage of Windows on a Mac if its appropriate for your situation.

Save on Windows Buy Windows XP + an Intel Mac & save $150
Save on Office 2003 for Windows Buy Office 2003 + an Intel Mac & save $250
Use our Boot Camp demo model Try out our Boot Camp demo Mac for a week - free!
Click here to see our special Windows-on-Mac page!
---
Is Safe Boot the new "Rebuild the Desktop" Many OS 9 users swore by Rebuilding the Desktop. After all it was a simple start-up routine that could fix SOME problems. We at Precursor thought it was over-used --but that is beside the point. Mac OS X does not require Desktop Rebuild so this start-up key sequence is largely forgotten. But now there is a new start-up key sequence in town: Safe Boot. We've prepared a page on Safe Boot to help familiarize you with what it does and when it is appropriate.