Apple is selling iPods in the millions this year but there is always room for improvement. The iPod Photo is a new model with a colour screen, a 40 or 60 GB drive and the ability to sync your iPhoto library as easily as it syncs your music. Plug it into your TV with the included cable and have a slide show with music. And, with the iTunes Music Store finally coming to Canada this month, who can resist!



Suddenly Quark Inc. is your best friend! Buy QuarkXPress 6 (or a QuarkXPress upgrade) with a new Mac and Quark will send you a rebate of up to $375 CDN. But that=92s not all we have Adobe InDesign to thank for. QuarkXPress 6.5 is a free download for any Quark 6 owners. The new version offers a number of feature improvements.

Import native Photoshop documents
Place guides on a master page=92s pasteboard and see it in your layout
Group tables with other Quark items
Customize printing features for custom bleeds as print styles
The update is available from Quark.com. If you are a Precursor support customer we strongly recommend you check with us before applying the update.

Save up to $375 when you buy or upgrade Quark with a new Mac!
---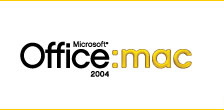 Microsoft has been busy pumping out minor security updates to all the versions of Office: 98, 2001, v.X, but Office 2004 gets a major Service Pack 1 release. The updates are available at the company=92s Mac web site, www.mactopia.com. (For those Precursor support customers who are using Acrobat 6, please check with us before installing the update). But that is not all our Office news. Precursor has very special pricing on Office 2004 when you buy it with a new Mac.

Check our specials page to save $240 on Office 2004
---

Apple has released upgrades to Mac OS X and Mac OS X Server 10.3.6. The updates address a slew of minor hardware, software and networking issues and are highly recommended. If you are a Precursor support customer we strongly recommend you let us perform this update for you. The update is available through the Apple menu=92s Software Update mechanism.
---

The most visited spot on our web site has been the Cool Stuff page. Unfortunately, it was one of those =93coming soon=94 propositions. Well, we are happy to announce that Cool Stuff is now ready and we invite you to check it out. After all, the one with the coolest toys... wins.